Connect with your authentic self through the influence of the horse.

In Memoriam

Cinnamon Girl

For Cinnamon Girl

You seemed so sad as you were brought to a livery barn to begin what I know now as the second part of your life. Lucky for both of us that was the day we met. You came from an auction in Shipshewana, Indiana. You appeared to have had a difficult time up until then. I could see the evidence of hard work and your being head shy completed the story. One look in your eyes and I saw the sweetness of your soul.

We went for our first ride that day, the smoothest gait I ever knew. When it was over we knew you needed to be a part of our family and thus began the second chapter of your life. For the next sixteen years you warmed our hearts, let us kiss your velvet muzzle and breathe your always sweet breath. You were a friend, a sister and teacher to all that have come in and out of our lives. As you arrive and cross over the Rainbow Bridge, look to your right and join up with Maverick and Ryta and know that I look forward to being with all of you again. I will miss you Minnie….. Dad

                                           Steven Cohen

                                           4/28/2006








With velvet muzzle



    And breath so sweet.



The wisdoms of life



    Coursed through your soul.



Your gentle presence,



    Gone from the barn….



But never gone from my heart.



    For your spirit will live on…



And my heart and soul are forever changed,



    By having you in my life.



You now walk in the company,



    Of  the great horse ancestors.



With their knowledge and secrets



    Of unanswered questions.



My heart is heavy,



    With missing you.



But time will help



    To heal this wound.



For life is a cycle of being…



    And death is a part of life.



Cinnamon Girl…



    With strength, beauty and grace…



All the way to the end.



    Your lessons on earth completed…



So life goes on…



    And my heart weeps.
                                                            Lori Cohen

                                                            5/7/2006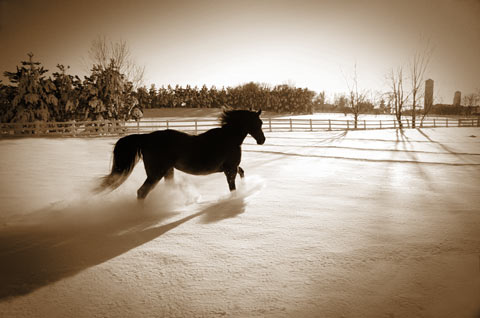 Click here


I wanna live




with a cinnamon girl




I could be happy




the rest of my life




with a cinnamon girl.






- Neil Young
to add text.
Cinnamon Girl

Cinnamon Girl came into our lives on a beautiful September day after my husband rode her out on trail.  "She's so smooth!" Steven said as he enjoyed her racking gait.  And he bought her from the livery barn upon returning to the stable. And from then on, She was ours, or perhaps I should say we were hers.   She honored us with her presence for the next 16 years and we loved her with our whole hearts.  She was a passive leader in our herd and she was loved by all who met her.